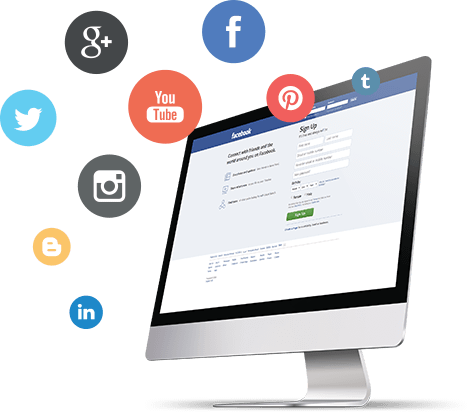 Social media marketing has become vital to digital marketing campaigns and can even be the flag bearer of your marketing goals. As a social media marketing agency, BDM INFOTECH understands the science behind what makes something shareable. We help your brand to be heard and shared. Our social media strategy involves an in-depth study of your brand and creating tailored content based on which platform is more likely to give you an advantage.
Some of our social media marketing strategies include:
Social postings for all social media platforms
Social seeding
Sponsored posts
Like campaigns
Live tweeting
Video promotions
Social media platforms such as Facebook, Twitter, Instagram, Pinterest, LinkedIn and many emerging ones have become an integral part of our social existence. An average user of social media spends 11 hours online every day. This shows that there is ample scope for your brand to catch the attention of those wandering on the net.
As social media is redefining the developing landscape of online marketing, we build a social media campaign that is aligned to fulfil your business objectives. We offer the following social media services to get your business into the centre of all limelight.
Social media services are easily accessible to everyone with the growth of technology and moreover it is relatively inexpensive than traditional advertising. People today thrive on social media marketing and are involving it in all their activities in some form or the other.
As a brand, you too can utilize this space to initiate a two-way conversation directly between you and your potential customers. With the backing of a right social media strategy, you can convert your followers to loyal buyers by not only educating them about your business but also creating a human connects by showing them an insight of the other aspects of your business.